Tipo:
Libri
Editore:
Massachusetts Institute of Technology
2004

The euro and its central bank
Getting united after the union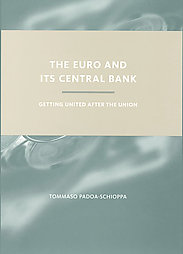 This history and analysis of the euro and the European Central Bank traces the process of European monetary integration from its beginnings as a utopian vision in the aftermath of World War II through the establishment of a single currency managed by a central bank. Tommaso Padoa-Schioppa, a central banker who has been involved in the making of European monetary unification since 1979, offers an accessible guide to the euro and the European Central Bank for scholars, students, and the general reader, discussing the related economic, financial, monetary, and international political issues. In the process he also provides an overview of central banking in general and the multiple activities of a central bank; as the case of the European Central Bank illustrates, central banking involves not only monetary analysis and policy but much else, including banknote printing and handling, market operations, payment systems, bank supervision, and coordinating with other public institutions.
Padoa-Schioppa begins with the historical background of European monetary integration, starting with the 1957 Treaty of Rome, which lay the foundation for the Common Market, and covering the 1992 Maastricht Treaty, the development of an anchor currency, and the "euroskepticism" of the U.K. Subsequent chapters are devoted to economic policy, monetary policy, the euro as unifier in the financial system, the payment system, the euro as an international actor outside "euroland," and the challenges ahead for the still relatively young project of European monetary integration.
pagg. 282

Stampa
Editore
Massachusetts Institute of Technology